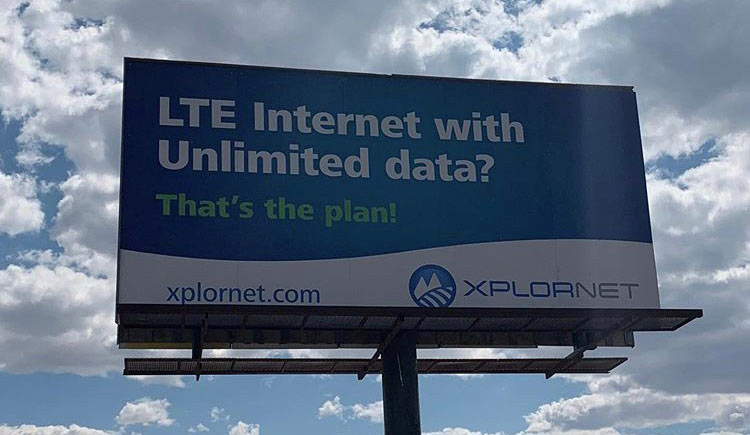 24seven ADVERTISING is
proud to be a locally owned business
based in Prince Albert, SK.
We provide billboard advertising opportunities in and around Prince Albert & Saskatoon.
Billboard advertising has been in North America since the mid-1800s. It is still very popular today. It is a cost-effective way to promote your brand and business. Jusuf Zekiri did a study done in 2019. He concluded the following. "Consumers agree that billboard advertising is important and has an impact on consumer purchase decisions."
We know it works and can make it work for your business. Call us and we can develop a campaign suited just for you. We can craft the message and design. Location(s), size of board(s), reflective or not, and the length of the campaign.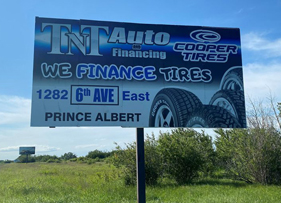 We offer two different sizes of billboards at various locations in central Saskatchewan. 10' X 20' and 10' X 40'. You can display a BIG message or a REALLY BIG message. Our creative department develops full-colour graphics on 10MM coroplast. It is a weather-resistant surface that really makes your message pop. For even more impact we can produce your ad in reflective colour.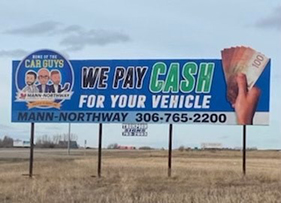 Extend your reach and make sure your message is loud and clear with our 10x 40 super boards located in Duck Lake! Reach travellers in both directions heading north or heading south. These super boards are 1/2 way between Saskatoon and Prince Albert. We have you covered!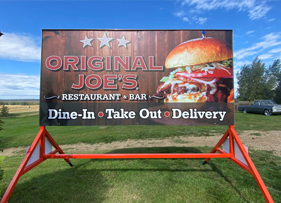 For businesses with more grounded promotional goals. 24seven ADVERTISING has 5′ X 10′ portable signs that actually stand on the ground. Ideal for highlighting landscaping, parking, office rental and so much more. Types of business, events, or promotions are almost limitless. These boards bring your message right down to eye level. Professional development of the sign is included in your agreement. The message can also be updated quickly and cost-effectively. Call us to discuss your promotional needs.
Change up your advertising with billboard extensions.
Billboard extensions are cutouts placed at the top, side, or bottom of your brand's billboard! Because they're so eye-catching, billboard extensions have the potential to draw even more attention to your billboard! Extensions bring brands to life and amplify your message.

Select billboards in your immediate trading area and dominate! Share a voice against your competitors.


Where available, we offer standard and crossview options for pricing. Standard would be located on the righthand side of your direction of travel. Crossview would be across the road on the lefthand side of your direction of travel. We provide discounted rates for crossview campaigns. Campaigns are based on 4-week pricing increments.